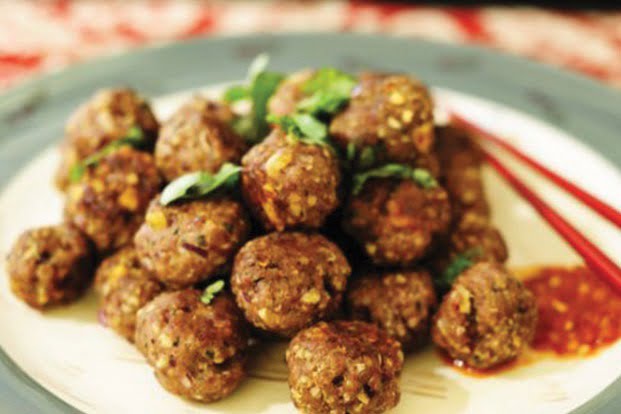 Soya Kebab and its Nutritional Benefits
If you are in the idea that the delicious dish of kebab could only be enjoyed by those who eat non-vegetarian, you are thinking wrong. The truly vegan dish of Soya Seek Kebab is awesome for all my vegetarian friends. This dish belongs to the Middle East nations. But today it is ruling the world with its taste. It is very healthy and at the same time, it is a great snack. Moreover, it is healthier by itself but it is made healthier by grilling it.
For making soya kebab, you have to boil all the soya chunks. Make sure you don't use hard nuggets but the soya flakes. Any finely chopped vegetables according to your taste can be added along with Bengal gram. The boiling process has to continue for 5 minutes. In the next step, green chilies, garam masala, and ginger garlic paste, chopped onions, oatmeal, and salt must be added and mixed well. Leave this mixture for about one hour. This will allow the mixture to settle in well. Then, in a preheated Oven Toaster Griller, you have to fit the soya. It has to be fit in such a way that kebabs are made brown on all sides.
You can serve the Soya kebabs with all types of sauces. However, it goes very well with mint chutney, tomato ketchup and onions. Squeezing a bit of lemon over soya kebab will give it a special taste.
Origin
Let us make a little visit to the origin of Soya. It belongs to China. It was a very important plant in ancient China. They considered this plant to be very essential for life. In the early 20th century they were introduced to the Asian continents. Initially, they were used as animal feed. But now, it is a widely grown legume all around the world. In the mid-1970s, traditional soya foods saw a great increase in consumption and thereby the production also increased. Soya milk, soya sauces, soya cheese, and soy yogurts are very popular healthy foods available in the market today.
Nutritional Highlights
Soya is very rich in protein content, vitamins, and minerals. Especially, it contains insoluble fiber. You can see the transformation of soya into many products. They are very popular in certain types of cuisine. Miso is a kind of fermented soya which is very popular in Asian Cuisine. It is a great source of minerals. Tempeh is an Indonesian dish that is made by cooking the soya in the form of a solid cake. So soy-based foods have flourished after knowing its significant healthy properties.
It contains phytoestrogens which are a chemical found in the plant. There are many types of chemicals. They are called isoflavones. A lot of research was conducted and that revealed great results. The most striking discovery was that soya rich diet can lower the risk of breast cancer.
Thus, Soya kebab is not just for foodies, or vegans, it is every person who wants to have a healthy life.